a cup of this, a smidge of that, and a pinch of what? oh right, a pinch of evil
it occures to me that i've never shared any side dishes. sorry about that. here is one for you.
i am a fan of casseroles. i am a fan of side dished. it seems very nice when the two are one. there are several great side item casseroles out there. one of my very favorites is green bean casserole, possibly because green beans are my favorite veggie. and the silly fried onions are lots of fun; i always end up eating half of them in the making so there isn't quite enough for the real recipe. well, apparently my husband's least favorite casserole is green bean casserole. we were talking about it, and in that strange funny way that only he has, he recounted the ingredients: a can of mushroom soup, fifteen bushels of green beans, a whole slew of those awful onion thingies, and what? oh right, a pinch of evil. but this is the really yummy casserole that he found and made, all on his own.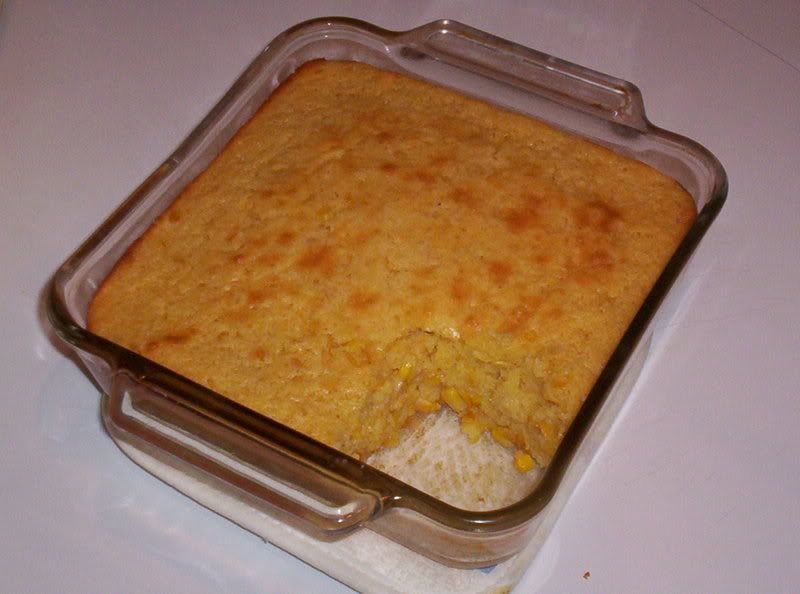 canned corn casserole

1 can whole kernel corn
1 can cream corn
1 box corn muffin mix (i think jiffy is best)
1/2 cup sugar
2 eggs, well beaten
1 stick margarine, melted
1 cup sour cream

its an extremely simple recipe and all completely carbs. the sort of yummy casserole that a man would pick out. preheat oven to 350. mix everything, pour into a 9x13 dish. bake 45-60 minutes or until center is firm. 45 minutes was enough for my oven. the recipe states that a 1/4 cup sugar will be just as good but i have to ask, why? who would bother trying? the recipe also suggests serving this with fried chicken and fresh tomatoes. i have no real ideas about what main dish this should accompany, but i had already thought about the tomatoes. maybe a cool tomato and avacado salad as a second side dish. i think you could possible cut up some bell peppers to cook in the casserole too, that might be interesting but i cannot vouch for it. enjoy!