go baby go!
yesterday was fairly interesting: andrew and i threw our first ever derby party. apparently there is an offical registry for derby parties. we didn't know until yesterday. there were aproximately 7000 registered derby parties yesterday! if we ever throw one again, we'll make it official.
having an in home gathering was a great motivator to finally get around to finishing a couple of home projects. a good mix of people showed up; some friends, some coworkers, some national guard guys. i had been worried that there wasn't enough food or beverages but of course we have enough tasty leftovers that we'll not have to cook for days. i was also worried that since the party was from 2-5 and the race lasts a little less than 3 minutes, that we'd all be staring at each other bored to tears at 3:08. that was not the case, though unfortunately in part due to the terrible tragedy of eight belles. horses are just like so many other things in the world: fantistically strong and powerful yet so very fragile. my heart goes out to larry jones, her trainer, who, strangely, is the father of someone with whom i went to high school.
last year i did bet, and my horse won. i think i came home with about $20. i had casually guessed which would be the top three, but did not bet the trifecta. i seriously should have because i was right and would have come home with at least one more zero at the end of that winning amount. this year, i did not bet at all. we were cheering for big brown, but strangely, not because he was the favorite. we choose him for his name. andrew's roommate in iraq was brown. whenever brown calls, andrew answers the phone with "hey big guy." there are a couple of other members in the "big guy" club, but andrew and brown are the founders. so a horse named big brown is naturally going to be our choice. he did a fabulous job coming from the worst spot at the gate and finishing many lengths ahead of everyone else. it really looked like his jockey couldn't hardly get him to stop, like brown was just having such a great time that he wanted to go around again! it will be interesting to see how he does in the preakness and then belmont. there has not been a triple crown winner since the year i was born...
our derby welcome wreath: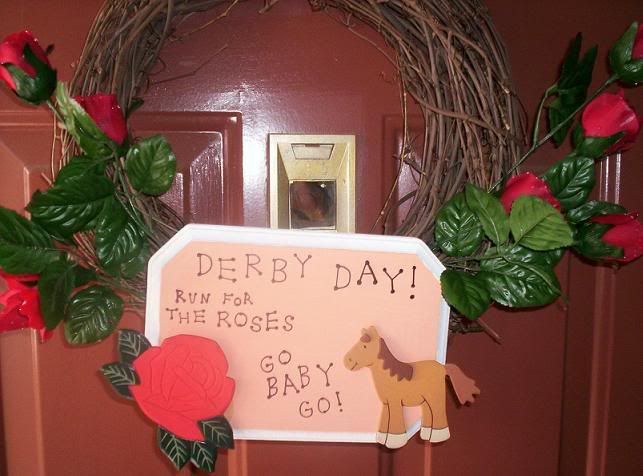 me and my derby hat: