yum yum yum
thirteen things i keep on hand (week #9)

in the fridge
1. tortillas. you can stick anything inside of them and you've got food on the go
2. baby spinach, avocados, pears, feta, and oil/vinegar dressing. i know its more than one item but they all go together in the same bowl and then into my tummy. fresh red skinned pears are the best and make the most asthetically appealing salad but sometimes you just have to deal with canned pears.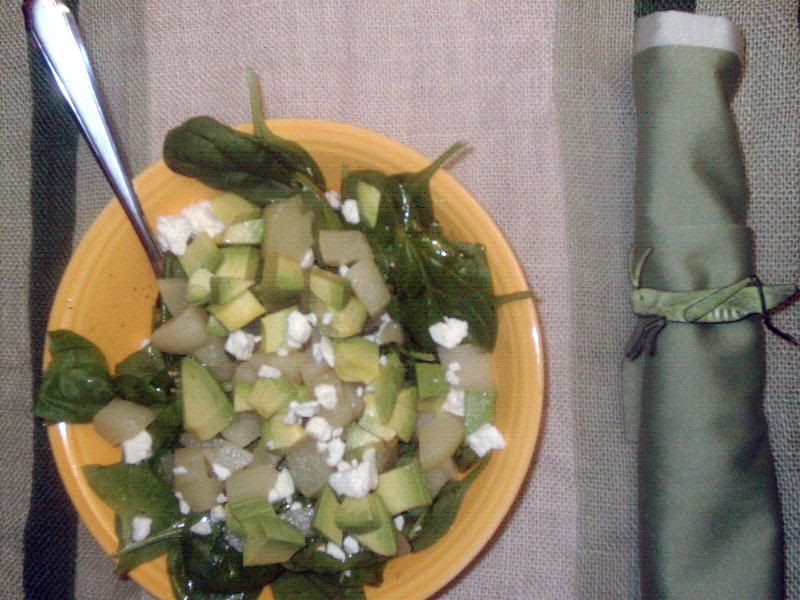 3. fresh veggies (carrots, peppers, zucchini, onion, etc). as often as possible, i try to cook meals from scratch (i know you don't believe me based on the other items on the list but really i do like fresh, not premade foods)
4. fresh fruits. my favorite are strawberries but sometimes you just can't get them. winter is so hard for me. you can't get any decent fruits or vegetables and the sky is so dreary. there is no sunshine and no strawberries and it just makes me sad.

5. skim milk and chocolate syrup to make the milk tastier. you gotta have strong bones.


6. OJ, i like medium pulp and my husband likes no pulp but he tries to do low carb and avoid juice so i can drink what i want. tra da la.

in the freezer
7. stoffer's chicken pot pies. they are just too yummy, and i will never ever look at the back of the box, just in case they are actually bad for me.
8. several lean cuisine chicken varieties, particularly the sweat and sour chicken and the thai chicken in a peanut sauce
9. grilled chicken. anytime chicken is on sale at the store, i buy up a whole bunch of it and marinate it in a couple of different things, grill them all up on the grill, and then freeze them in individual baggies for later. it just makes for such an easy lunch or dinner when i'm short on time or my travel schedule doesn't allow me to keep many fresh items on hand.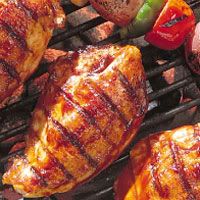 in the pantry
10. mac-n-cheese, known in some circles kraft dinner. my favorite is the swirly twirly ones. they are fun shaped and the quickest to cook, bonus.

11. soups. when i'm sick i want brothy sorts of soups. when i'm healthy, i like creamy soups. tomato soup for grilled cheese. i don't ever like beefy sorts of soups. and here lately i've gotten on this kick for 'a taste of thai's' coconut ginger soup. it comes in a packet, found on the international isle of your grocery, and you add chicken broth and coconut milk and then whatever veggies or chicken you want to add. its also good without any additions.
12. assorted dried fruit and nuts, for random snacking and baking
13. bags of already cooked rice. they come in every flavor. all you have to do is massage them a bit, toss into microwave, and put into the serving bowl. easy peasy.