just add whatever you want
we've tried this recipe a couple of ways. it is good with the chicken. its good with italian sausage instead of chicken. its remarkably good with just spinach and no meats, though you might want to put in an extra package to make up for the missing chicken. its kind of an add whatever you want sort of dish.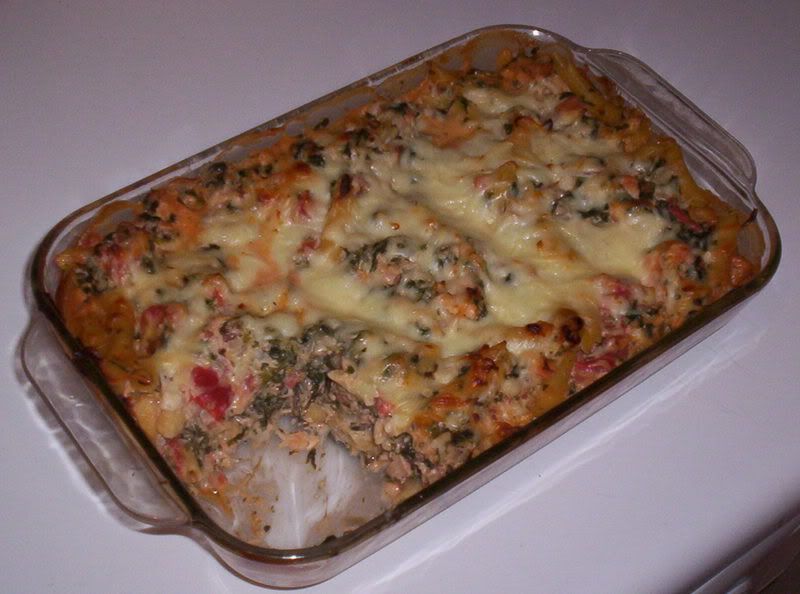 chicken spinach casserole

8 ounces uncooked rigatoni, or pasta of choice
1 T olive oil
1 cup finely chopped onion (about 1 medium)
1 (10-oz.) package frozen chopped spinach, thawed
3 cups cubed cooked chicken breasts
1 (14.5-oz.) can Italian-style diced tomatoes
1 (8-oz.) container chive-and-onion cream cheese
1/2 t salt 1/2 teaspoon pepper
1 1/2 cups shredded mozzarella cheese


prepare pasta according to package directions. meanwhile, spread oil on bottom of an 11- x 7-inch baking dish; add onion in a single layer. bake at 375° for 15 minutes or just until tender. set aside. drain chopped spinach well, pressing between layers of paper towels. stir pasta, spinach, chicken, and next 4 ingredients into onion in baking dish. sprinkle evenly with shredded mozzarella cheese. bake, covered, at 375° for 30 minutes; uncover and bake 15 more minutes or until bubbly.