rest in peace, my evil mr kitty
thirteen things about mr. kitty
week #16
there's isn't too much to introduce this time. for no particular reason, i haven't mentioned my cat too much here. i guess better late than never. this week was a hard one.
mephistocat: 4/8/2000 - 10/4/2006

1. my fat cat was a gift. while i didn't get to take him home then, i choose him when he was just days old.
2. his official name was mephistocat. before i got to take him home, in the summer of 2000, i visited new orleans. there was a fabulous shoe store named mephistopheles. marlow tells us that faust sold his soul to mephistopheles, the devil. mephisto is short for that and as a cat, it's mephistocat. he's really lived up to his name. but then my husband came along and it was just mr. kitty after that.
3. mr. kitty's mom was short haired. he's dad was a local tom, long haired. mr. kitty was quite tubby, as all good kitty's should be, but his only long hair was also on his tummy, making him look extra fat. hee hee.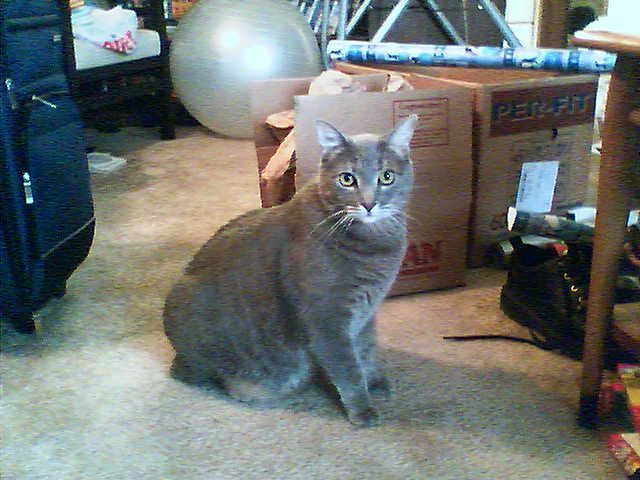 4. he wasn't my cat. i was his person. if you have a cat, you understand the difference.
5. mr. kitty dressed up for christmas fun: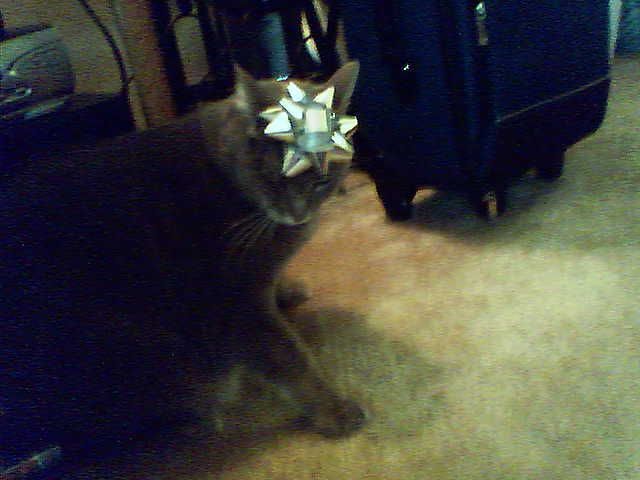 6. mr. kitty was terribly fond of licking elbows. i can't tell you how many times i would wake up in the night because he was licking my elbow. i took to wearing long sleeved shirts to bed because of this. so very weird.
7.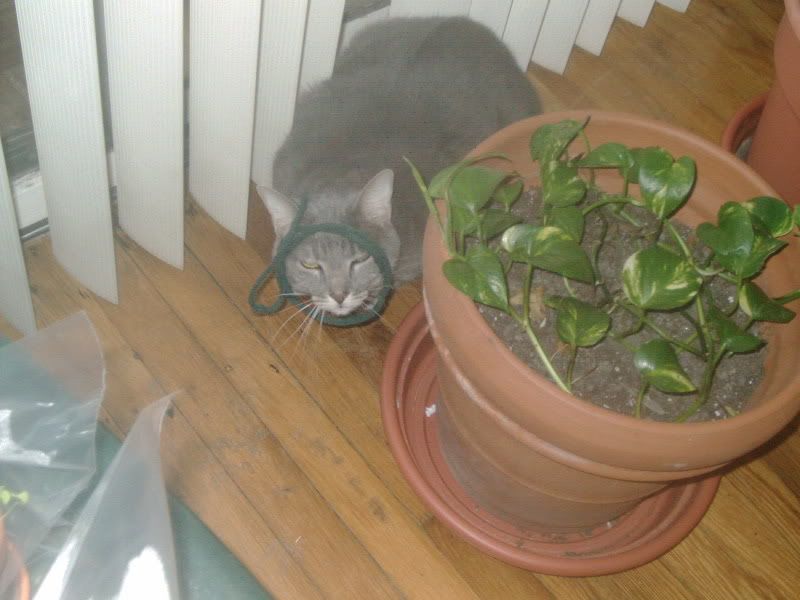 8. as you can see from the picture above, mr. kitty's favorite toy was the green string. we bought toy after toy but he nabbed a string from a green sweatshirt and never really took to anything else.
9. mr. kitty also loved to eat the houseplants. in his mind, he was clever and sneaky. would wander up to the plant. stand near it. look at me. inch closer. yawn. during the yawn, a bit of plant might accidentally fall into his mouth. clearly, the plant wanted to be eaten, it was out of his control.
10. who among us can't spend hours playing in a box?
11. mr. kitty had a nack for ruining important things. he soiled a suitcase, a box of dvds (most in the cardboard boxes which are remarkably absorbent), and one of andrew's army hats (only a couple of hours before deployment).
12. going along with #12, mr. kitty hated andrew. with a fiery fiery passion. the funniest thing that ever happened, i didn't even get to witness. i don't remember what the scuffuffle was over. i imagine it was over who got to sit on the couch or can andrew make the bed without the cat being inside it or something. but mr. kitty got just so so very mad that he accidentally pooed ON HIMSELF. in the same way that small children might laugh until they accidentally wet themselves. mr. kitty was just so mad and then so stunned and then so ashamed/embarrassed and then he ran off, as i guess i would too if i'd just done that. ha ha ha.
13. mr. kitty passed out after a night of too much fun: