what brings us all here?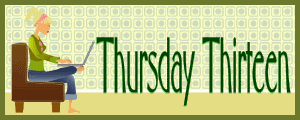 thirteen search referrals
week #12
wow. i haven't blogged since last thursday. um. i have a good excuse, i'm sure of it...i spent the weekend snuggled up to my husband (he's still in the army and i live in a different town so for a little while longer but not too long, i won't see him everyday), and then i left for a work trip. i've been in staunton, va. its pronounced st *ant* on even though there clearly is a u in the name and so you'd think it would be st *aw* nton. work was good and now i'm home. in the meantime, i keep checking my site's stat counter and i'm kind of amused at the things that people searched for which led them to me. some of the things make sense and some just do not.
1. "spaulding's doughnuts," i get a couple of hits a week from people searching for these fatty tasty gems. i think i only mentioned them once and i don't even recall why now. and i'm likely to get a thousand more hits since i've now gone and mentioned them a second time. how completely odd.
2. "pudding-buddha," i did an entry on these jelly molds that make little edible jiggly buddhas.
3. "lexington joyland park history," its a closed down rollercoaster ride and former TT topic
4. "spicy and fruity salsa," that's how i described chutney
5. "chucky cheese santa maria," i do not understand how those two things go together or why
6. "fun pancakes," my first recipe entry
7. "goes lexington ky anne mongolia," i don't know anyone named anne mongolia
8. "tucson car," we just bought one except its not a car but a mini adventure vehicle
9. "creek freak wv," i can't even come up with a quip for that one
10. "what restaurant was at bangkok house lexington ky before?" i think that's just what its always been
11."alberton live mash up," i don't know what that means. maybe some of the words are homonym typos?
12. "leftist propaganda," i don't think they found quite what they were looking for on that one
13. "blue john skim milk," so. is that a brand name or some cia code word?
view other paricipants!